Background
Tasty Nut Industries is a privately owned company with the purpose to export cashew nut kernels from India. For over a quarter of a century, Tasty Nut Industries has earned an image for product quality which has come to be the benchmark in global standards.
Having carried out cashew related transactions for a long time, the company is very familiar with cashew business and therefore they have accumulated an extensive experience and expertise in this kind of business – knowing the several types and species under which processed cashew nut kernels are graded and the systematic for commercialization of cashew nuts.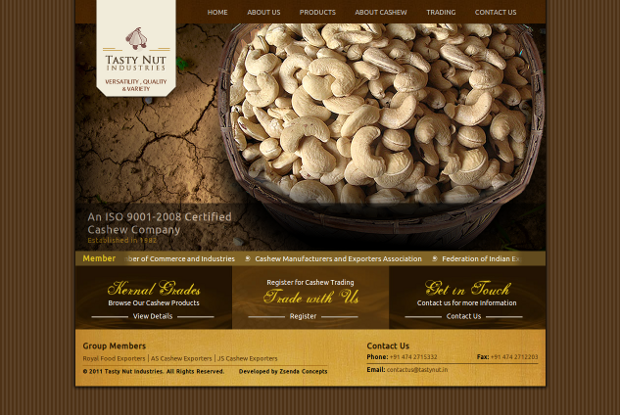 Challenge
The quality product itself doesn't mean it has a reach of the whole world. As to inform the world about the product and its quality, there really need a stylish, attractive and informative website for the purpose.
Approach
Zsenda managed Tasty Nut's main concerns well. Created a fascinating design with quality images and made an easy way to trade.
Result
The website that Zsenda designed and built for Tasty Nut is now considered a highly popular and successful online product information destination.
Live URL : http://www.tastynut.in/