Background
The CEPC Laboratory and Technical Division was established by The Cashew Export Promotion Council of India (CEPC) in the year 1997, fully funded by the Government of India for ensuring the quality of cashew kernels & allied products exported from India.
The services of this Laboratory and Technical Division will be available not only to cashew industry in India, but also to the entire food processing industry in India and abroad.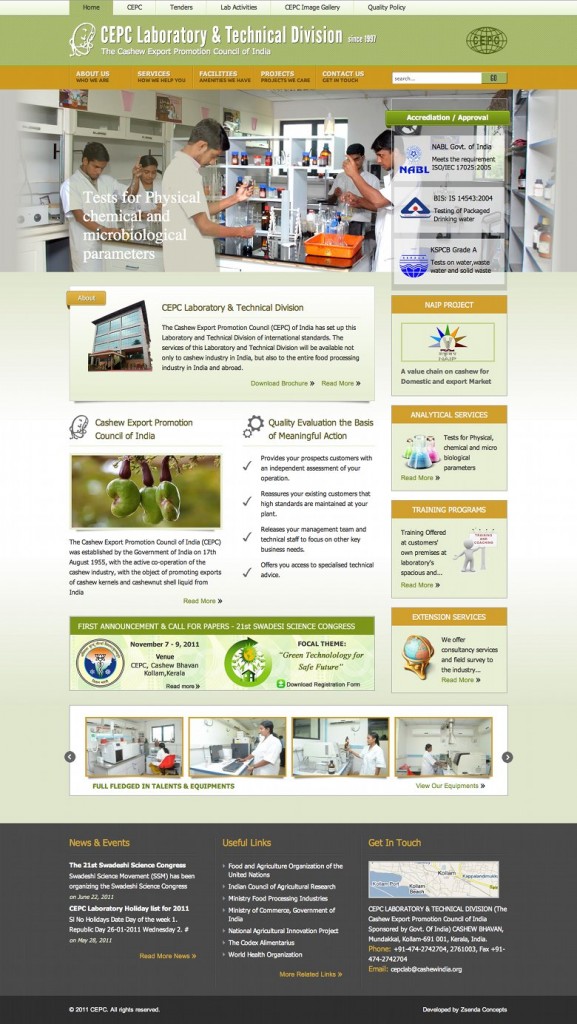 Objectives
The scope of the project is to design and develop a professional website which will act as an online gateway to the CEPC Laboratory activities and projects. The visitors in the site will get a detailed information on its various research oriented activities, facilities, accreditations, training etc.
Challenge
Architect a website for CEPC Lab that is simple yet elegant and powerful, maintaining ease of use on both the front end and the back end. To illustrate and reveal a vast amount of information in a simple and friendly way to an audience of varied backgrounds was indeed a big challenge.
The Solution
Instead of creating a common informational Laboratory website, we wanted to find a way to intrigue the visitor and encourage them to explore the different services and activities of CEPC Laboratory. The user friendly website allows a visitor to get quick and a detailed overview to all its activities.
The website has a fantastic top level navigation which will easily guide the visitors through out the complete website. The CEPC Lab Website attributes a modern, and trendy design through the application of chunky text / imagery against a mixed light green – white gradient background.
Live URL : http://cepclab.org.in/