Background
The Cancer and Allied Ailments Research (CARE) Foundation was initiated by the Calicut City Service Co-operative Bank. The project, which aims at a noble cause of eliminating cancer, is a charitable society that also comprises of 15 professionals from various walks of life. The society proposes to set up a 500 crore cancer hospital and research centre near Chathamangalam, 22 kms from the city of Kozhikkode.
The Challenge
CARE Foundation needed a unique and concise system of materials that would raise awareness of the Foundation's goals, drive target users to an enriched and improved website, and convey CARE Foundations' message of compassion and expertise.
Solution
When the Care Foundation contacted us to develop a website they are at the very beginning stage their project. Feedback and data from the Zsenda Meeting with client, early prototype user testing, and pre-launch user testing were all analyzed and used to understand how better to structure the new site. The organization of content the strategy of the social media materials were also designed to align with the new website and identity.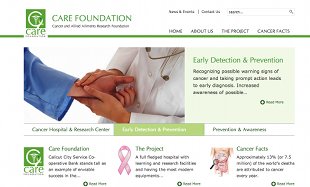 The Result
The Care Foundation site has received positive reviews, web traffic has significantly increased, and readers are happy with the site's ease of use as the length of stay per page is longer. The 'Reduce Your Cancer Risk' section has got much attention to the visitors.
With the launch of the CARE Foundation website, The Foundation for Fighting against Cancer had taken their first steps towards a new, improved presence on the web. The new website better communicated with their visitors and provides more access to the visually impaired.